Administrative Team
An administrative team was formed throughout the artistic journey of the company.
Marina Tullio
Production manager
& in charge of development
bio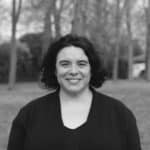 She started in live performance as production manager and contemporary dance presenter for the Red Notes Company / Andy Degroat, L'Estampe / Nathalie Pubellier then at the Théâtre Populaire de Lorraine Stéphanie Loïk. She has worked on the development of many emerging companies including the Dagor / Thomas Gornet company and supporting dance residents at Point Ephémère. She managed the company of the Cercle du conteur Abbi Patrix for three years. For 14 years, she created and coordinated the Parisian festival Les Plans d'Avril "through eclectic arts", the opportunity to program the Scopitones, Gisèle Vienne "Jerk", Cie "AMK"… She recently set up the production of Mody Dick, a show created by the theater group Plexus Polaire. She, then, integrated Théâtre de l'Entrouvert in March 2020.
Lola Goret
Production assistant
& in charge of communication
bio
After a degree in communication and management in Berlin, Lola became professionally involved in the theaterfield  during a mission carried out with M Médias, publishing house which publishes magazines for the professionals of the cultural sector, such as La Scène, La lettre du spectacle. She collaborated with the association Petits et Grands in 2017 and was responsible for welcoming professionals during the biennial for young generations organized in Nantes (44). In September 2018, Lola joined the Théâtre de l'Entrouvert team as production assistant in parallel with that she is in charge of production for the Horizons Open Sea festival which takes place every year in Finistère.
Association
Camille Trastour – President
Anne Charrier – Accounting
bio
Female / male duo, Mathilde Damour and Thomas Delepière develop a graphic, sensitive, aesthetic, poetic and lively dialogue, always thoughtful and demanding. Our areas of expertise are visual identity, graphics, typography, illustration, multimedia development, motion design and video production. We are constantly evolving, concerned with keeping freshness and curiosity.